NMHC-RESCUE ALWAYS HAS MINIS AVAILABLE FOR ADOPTION!
WE ENCOURAGE YOUR INQUIRIES
Northeast Miniature Horse Rescue has a continuously growing, and ever-changing list of Miniature horses, and an occasional pony, available for adoption. It grows increasingly difficult to keep this page current, and we ask that you check our Facebook page, which is more up to date, and also feel free to contact our Rescue/Adoption Coordinator, Cindy Broady, at 603-774-7050 or mochaminis774@gmail.com, as she has all the current listings.
You will be advised to get onto our wait list so you can be matched with your perfect Mini.
The horses we have available are not all rescues. Some are horses donated to us by caring owners for our re-homing program. Some have sad histories, but many have been loved and cared for their entire lives. We will provide you with as much history as we have on any horse, including medical records if available. We adopt by contract to pre-approved homes, and track our adopted horses for life. We encourage you to contact us, even if the horses listed here have been adopted, or you don't see what you are looking for. Thanks for your patience!
ADOPTED!
JOJO – 34" chestnut mare, birth year 2005
Special needs – Insulin resistant, history of laminitis. Needs dry lot turnout
and low carb diet per our specifications. Harbors trust issues from early treatment, and needs confident and patient handling. Not dangerous, just scared.
Weare, NH. Adoption fee $200
ADOPTED!
HOLLY – 33.5" bay pinto mare with blue eyes. Birth year 1997.
Former show horse and broodmare. Healthy, no issues, and great to handle.
Owner requires that she be stalled at night and not be turned out with full size horse. Plainfield, CT. Adoption fee $300.
ADOPTED!
MADDIE & SELAH – Mother and daughter and must stay together.
Maddie – 31" buckskin mare, year of birth 2001
Selah – 32" blue roan (?) mare, year of birth 2013
Maddie is a sweet perfect lady. Selah is her cheerful, bratty daughter, in need of finishing school. Excellent driving prospect – brave and sane.
Hollis, NH. Adoption fee for the pair $450.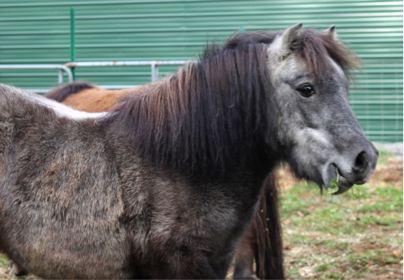 ADOPTED!
The Lakes Region Herd:
SUMMER – 30" chestnut pinto mare, year of birth 2002. 1 blue and 1 brown eye.
MAJOR – 28" grey (totally white now) gelding, year of birth 1998
PRINCESS – 29" grey (white now) mare, year of birth 1999
MINUET – 28" black mare, year of birth 2000
These horses are all healthy, no issues, sweet and easy to handle. Same owner for most of their lives. All have AMHA papers and would make excellent 4-H projects.
Princess and Minuet must go as a pair. Adoption fee $400
Major Adoption fee $250
Summer Adoption fee $350
Summer and Major as a pair Adoption fee $450
SUMMER - MAJOR - PRINCESS - MINUET & SUMMER
ADOPTED!
The Pembroke, MA herd:
TAURUS – 31.25" chestnut gelding, year of birth 1991
CAMEO – 31.25" seal brown mare, year of birth 1994
Both Taurus and Cameo were always well handled, and have been used for equine assisted therapy. Wonderful manners and personalities.
Adoption fees, $250 each.
YOSHI – 36" silver dapple mare, year of birth 2002. From our Upton Rescue of 2005. Her name means 'lucky', and so she was. Formerly very fearful, now loves people, especially kids, loves attention. Great for all handling basics. Also used in equine assisted therapy.
Yoshi drives but has the 'fear factor', so caution is advised.
Adoption fee $350.
Any two of these can be paired for a discounted donation. Would really love to keep this herd together. Substantial discount in that case.
CAMEO - YOSHI - TAURUS - TAURUS, YOSHI, CAMEO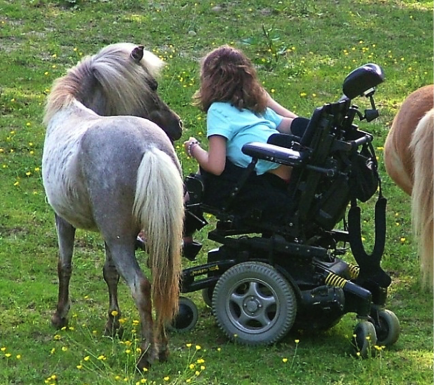 ADOPTED!
STORMY – 31" black pinto gelding with blue eyes, year of birth 2009
And CHARLEY – 37" palomino pinto gelding, year of birth 2005
These two handsome boys would like to stay together. They are healthy and sound
and Charley has been trained to drive. Sweet, friendly, well mannered gentlemen.
Shirley, MA. Adoption donation for the pair $750
ADOPTED!
TOBY – 31" seal brown gelding, year of birth 2013
And CHLOE – 29" seal brown mare, year of birth 2014
Toby and Chloe are sired by the same horse, and their dams (both NMHC rescues) are mother and daughter. They look like twins and are best buddies. Both are sweet and friendly and still 'babies', ready to continue their education, even if that means just hanging out and soaking up love and attention.
Sterling, MA. Adoption donation for the pair $500
ADOPTED!
COCOA and BEAUTY
Mini and Shetland 22 year old mares, both silver dapple pintos. Currently in Wilton, CT. Friendly, middle aged ladies, used to kids and crowds. Better pictures coming soon. Adoption donation for the pair $400.
Frankie has been adopted! Congratulations to Rachel and daughter Ashley in CT.
FRANKIE – 36", 9 YEAR OLD who needs to be a GELDING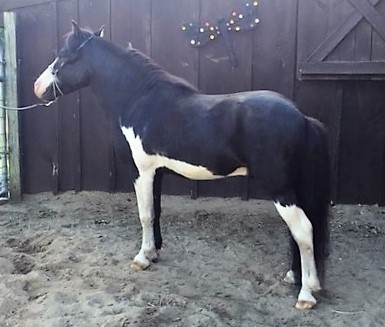 Beautiful Frankie has been in the same loving home for most of his life. He is a cryptorchid stallion, who displays no stallion behavior and has been turned out with other geldings. His owner, whose changing life circumstances have forced her to give up her horses, tells us that he is a total sweetheart, and is the horse she would choose to bring on nursing home visits or other outings. He is bomb proof and always eager to please. We are fundraising for Frankie's castration surgery, which will cost at minimum $1500, and are happy to report that we are half way there!!
If you would like to adopt Frankie, your adoption donation of $400 would go totally toward his surgery. Frankie can be seen in Monson, MA, and his move must happen soon!
Fritz (now known as Cheerio) has been adopted! Congrats Nicole!
FRITZ – 34" GELDING, AGE 8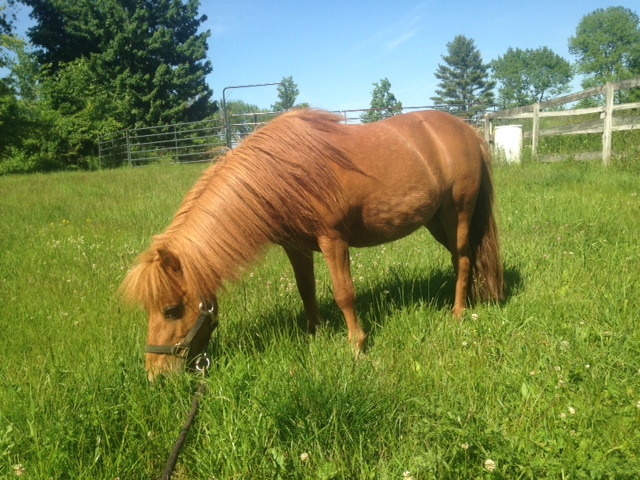 Handsome chestnut Fritz came to us for re-homing as the horse who could not be caught! He had been a companion to a huge draft horse, and left in a run-in situation to eat free choice hay until he was about to burst. We can only guess what his life was like prior to the two years he was unhandled. His first reaction to almost anything was to run away – fast! But then he would spin around and investigate. Fritz is definitely a work in progress and will need his person to be patient and relaxed and willing to put the time in to gain his trust. He has come a long way in his foster home. He is never dangerous in any way, and once haltered, his good manners are evident.
We feel Fritz will do best with a stall separate from turnout, so that he must be handled several times a day. He also finds 'safety' in his stall. This boy will be well worth your time and effort!
Fritz can be seen in Gilmanton Iron Works, NH and his tax deductible adoption donation is $300.
bella and Leah have been adopted!
BELLA – 34" MARE, AGE 6
LEAH – 32" MARE, AGE 4
AVAILABLE SEPARATELY OR AS A PAIR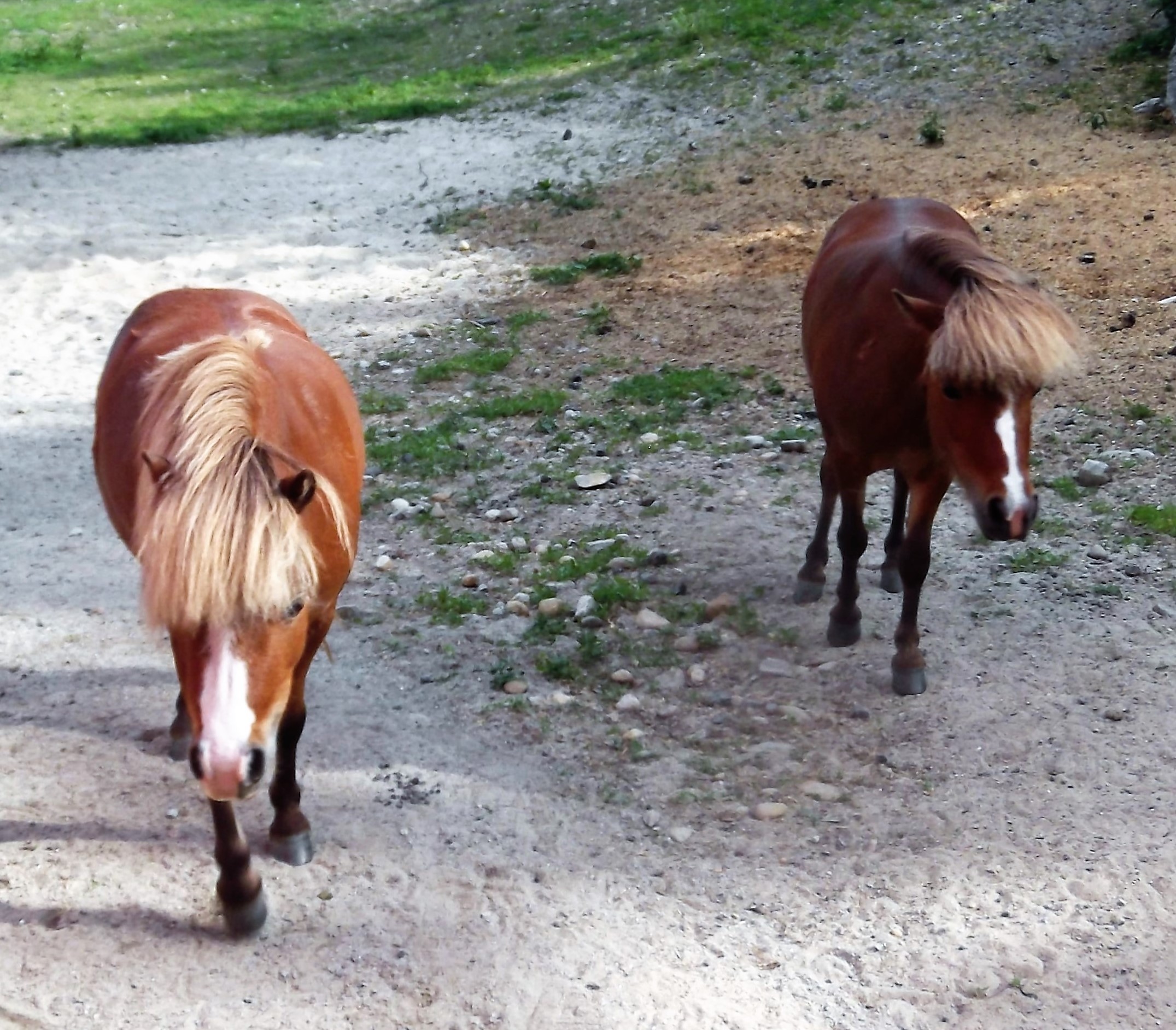 These pretty silver bay sisters were raised from birth by their current owners. Sadly, health problems have forced this retirement age couple to give up their herd of 6 Minis, and we are hoping to have them all placed by this fall. Though well mannered, cooperative and friendly, Bella and Leah are blank slates who are ready to learn whatever you want to teach them. They are waiting to join your family singly (you must have at least one other equine) or as a pair.
They can be seen in Goffstown, NH and their adoption fees are $300 each, or $450 for the pair.
minis available as pairs
The horses below are all available as pairs. They are bonded to the point that it would be detrimental to their health, not to mention unkind, to separate them. Three can be a magic number, if you are looking for a companion to a single horse. One can leave for an event or outing, and the ones remaining behind have each other. Please think about it!
These two have been adopted!
SNICKERS – 34" GELDING, AGE 13
SNICKERS' SON CODY – 31" GELDING, AGE 2
SNICKERS was the herd stallion for the Goffstown Mini herd mentioned above. He was gelded three years ago. Snickers is very much a gentleman and easy to handle. 'Baby' CODY, who actually doesn't turn 2 until August is a character! Loves to run and play with his Dad. The owners want these boys to stay together since Snickers is losing 'his' herd, and Cody his mom and sisters. They will make great additions to your own herd of humans and equines alike.
Snickers and Cody can be seen in Goffstown, NH and their adoption fee is $450.
Boone & Zach have been adopteD!
BOONE – 35" GELDING, AGE 9
ZACH – 32' GELDING, AGE 16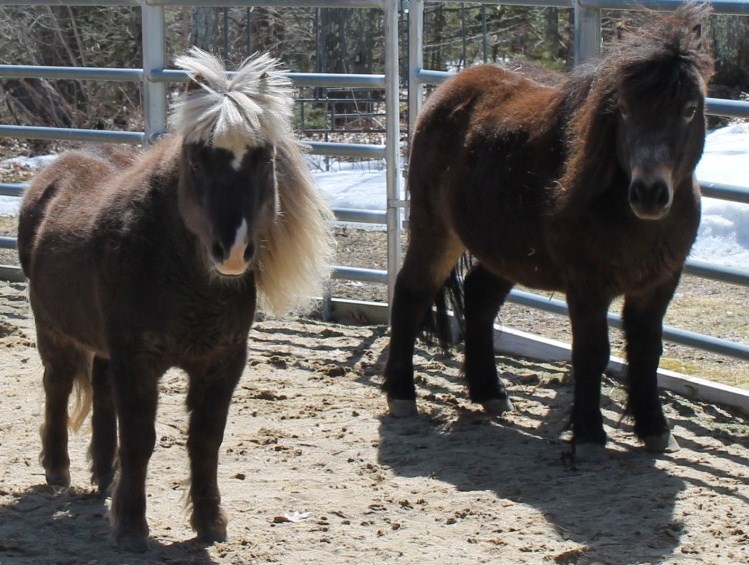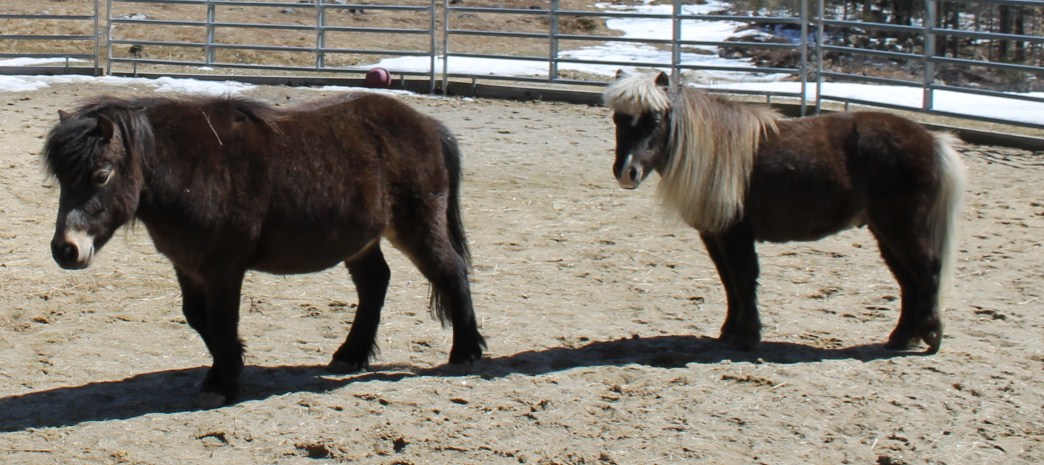 How would you like two warm and cuddly teddy bears to help you through the winter? Say hello to Boone and Zach, ready to introduce your kids or grandkids to the wonderful world of horses, or accompany you on a winter's walk, or just hang out and 'help' while you do yard work or clean their stalls.

These healthy boys are buddies of many years and would like to stay together. Boone is the taller dark bay, and Zach is the silver dapple with 'chrome' and a bad haircut! They are not rescues, but new to our re-homing program, up to date on everything, and ready to move right in with you and assume 'my pretty pony' chores.
Boone and Zach are currently in foster care in Londonderry, NH, helping with 'little kid duties' in an equine activities program. They are available for permanent adoption.
Tax Deductible Adoption Donation for the pair: $400
Whiskey and Molly have been adopted and will be providing daily therapy and interaction for the lucky residents of Life Care Center of Nashoba Valley in Littleton, MA! We are so proud of the important jobs they will have!
WHISKEY – 31" GELDING, AGE 14
MOLLY – 31" MARE, AGE 11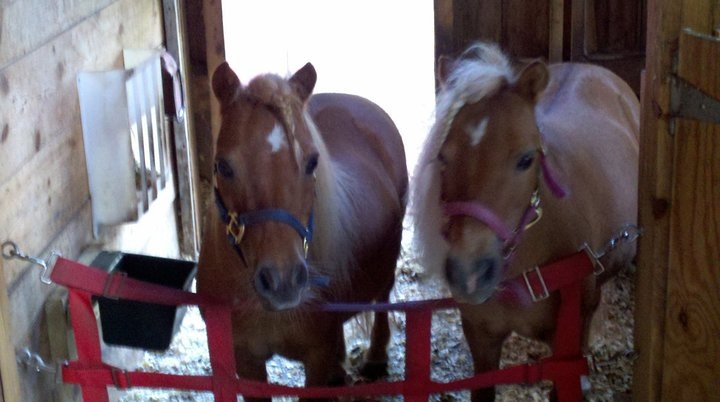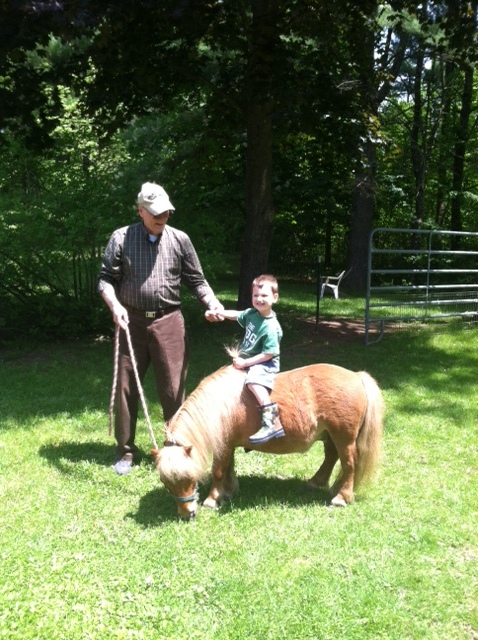 This adorable pair, another set of 'returnees', is without a doubt the most definitively "kid safe" pair of minis we have ever had run through our program. Their adoptive family is moving to the west coast due to a job change, so Whiskey and Molly are in need of a new family. They are happy to stand for hours of awkward grooming and even carry squirming toddlers, with lots of supervision of course. Check out the videos! They are perfect horses for nursing home visits and equine assisted therapy programs. Whiskey has a non-problematic condition knows as 'roaring' (paralyzed Larynx). He shares this with many famous race horses! With exercise, he makes a funny noise in his throat. He is not a horse you will want to drive. It does not bother him, he is otherwise healthy, and we have his history for the last 9 years. Don't wait long on these two!
Whiskey and Molly may be seen in Methuen, MA and their adoption fee is $450.