minis in their forever homes!
We adopt by contract to pre-approved homes and we track our adopted horses for life.
Below are a handful of our success stories. If you are one of the fantastic forever homes, please feel free to send us photos of your rescues living their new lives. We also invite all mini lovers to share your stories and photos on our Facebook page.
NMHC-Rescue is a 501c3 non-profit organization, and your donations, including adoption donations and foster care expenses, are tax deductible to the extent allowed by law.
ROMEO- 36" GELDING, AGE 13
Romeo is blind in one eye from abuse and was a stallion for many years. Romeo is a kind and willing gentleman with excellent manners. He is said to drive, and has had extensive ground work at his current foster home. He would be best with mini companions. A full size horse in the next paddock or stall is fine.
ROMEO HAS FOUND HIS JULIET, ONLY SHE IS NOT IN VERONA, BUT IN NH AND HER NAME IS VICTORIA, ALONG WITH HANDMAIDEN ASHLEIGH. WE ALL HOPE THIS IS HIS HAPPY EVER AFTER!
PIPER – 38" MARE, AGE 10
Piper is one of our "Cranbury Kids", pulled from the auction mid –March 2015. More pony than mini, she was a frightened and confused little girl, but is now thriving and learning to trust, more each day, with her talented and dedicated foster mom. Here is what her foster has to say: Piper would make an excellent companion to either minis or full size horses. A very rough life in her past has left her with many trust issues and reasons to be afraid. She has regained trust and learned treats are yummy, but will still need someone who is willing to be gentle, patient and understanding. Shy and reserved at first, after some treats and a positive experience she warms up. And once she trusts you she tries her hardest to please you, even if something makes her nervous.

This is her first time to be listed, and though she is a work in progress, we feel that she is ready to find a permanent home with knowledgeable adults. Horse savvy teens might be appropriate, but not small children. Piper is healthy, and up to date on everything, and she is located in Gilmanton, NH.

Just 7 months from her miserable auction experience, Piper is now calm and confident, and happy to be in her new forever home with Joanne and Neil in NH!
LESSIE - 32" MARE, AGE 13
Lessie is a pretty and refined Silver pinto. Her name is short for Celestial Melody, she has AMHA papers and was shown as a junior mare. Long retired, she has been a cherished pet, loved and cared for by the same owners since leaving her breeder. Owners need to take life a bit easier as they enter their own golden years, so Lessie, in the prime of life, is looking for a forever family. She is a sweet and friendly girl who loves attention and will get along equally with mini mares or geldings.
We are delighted to report that Evelyn and Michael in MA have welcomed Lessie as a permanent companion to their retired show pony Pippi! Two very happy and well-loved ladies!
THREADS, 37" GELDING, AGE 12
THUNDER, 31" GELDING, AGE 22
Threads and Thunder are a friendly and kid safe pair that couldn't be more different from each other! Handsome 37" Threads is a driving 'machine' - bombproof on trails, loves obstacle and cones, and very safe and steady. His little blue roan buddy Thunder is just happy to hang out and get some attention. They have been together for many years, and their owners, who simply can't envision going through another winter due to their physical challenges, think that the boys will be happiest that way.
Both are easy keepers, can handle grass (pastured all summer), and have no specific health issues, keeping in mind that Thunder at 22, is older than his big buddy. Threads and Thunder are located in Rindge, NH.
Well, the boys proved us wrong. They are each totally content in their separate new homes, both permanentlY ADOPTED!

Congratulations to Pat in MA already off driving the trails with Threads, and to Julia in MA who says that Thunder is a perfect fit in her pampered little 'herdette', as she calls it.
SHILOH - 31" MARE, AGE 8
DUNDEE - 31" GELDING, AGE 11
These two are a double treasure! Loved and cared for and taught to do fun things, and now sadly, their owner needs to concentrate on family health problems. Shiloh is a black and white pinto mare and Dundee is a silver pinto gelding. Both have been shown extensively(halter, showmanship, jumping) and won many awards on their local show circuit in Maine. Great with kids, easy to handle, Shiloh as even done nursing home visits. They are located in Benton, Maine.
Shiloh and Dundee made the long trip to northeast MA and have landed safely and happy ever after with Pat and Rick!
Pretty Jojo was a broodmare for most of her young life, having had 6 foals by age 9. All she wants now is good food and a warm, dry place to sleep. She is your perfect companion mini. Jojo, though easy to handle, can be hard to catch, so a run-in situation will suit her best while you win her over with treats and kindness. Jojo is located in Sterling, MA.
Our beautiful cover girl Jojo has changed locations and humans, but has finally found her happy ending back with her daughter Chloe and grandson Toby at Vicki's in MA. Patience and love have produced a more confident and content Jojo – at last.
GINGER – 34" MARE, AGE 20
COVER GIRL – 31" MARE, AGE 20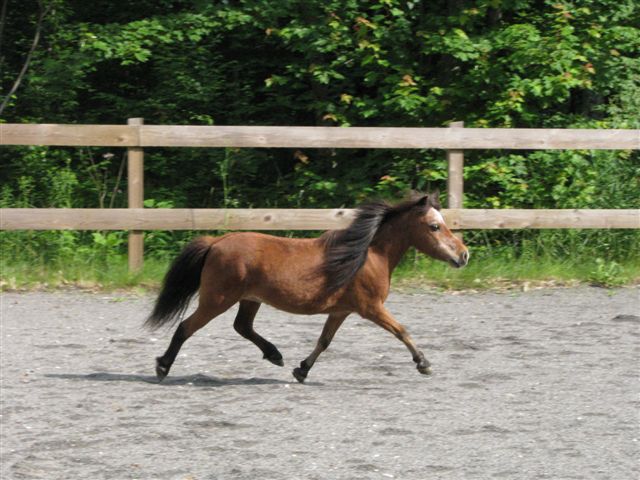 Ginger is a beautiful copper chestnut, and CG is an interesting bay roan. These are two healthy 20 year old mares (we have papers on both of them, so it's a true age) who have been earning their keep in an equine assisted therapy program in Hopkinton, NH for about 4 years. They are obviously great with kids and challenged folks of all ages. Ginger drives and there is a cart and harness that would be for sale very reasonably. CG comes with a whole wardrobe of hats and shoes from her days of visits and her role as 'spokes horse'. The non-profit is facing financial cut backs and needs to downsize a bit.
These lovely sweet mares would be happy to continue their valuable work separately or together, and would also be great babysitters for your kids or grandkids or other minis. They are located in Hopkinton, NH.
Ginger and CG did get to stay together, and both are enjoying a happy retirement (with a bit of dress up and perhaps some light driving time) with Kate in NY. Way to go, girls!
MAGIC - 31.5" MARE, AGE 15
Ceecee - 32" MARE, AGE 19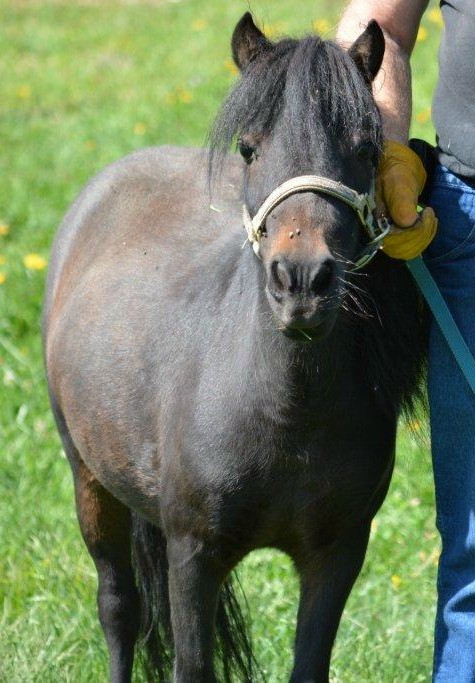 Flashy black and white Magic and elegant bay CeeCee are two sweet and beautiful ladies looking to find a forever home together. Owned by the same kind and caring folks as Lessie (see above listing), they have been together for most of their lives and would not be moving save for their owners' need to downsize their chores as they move into their golden years. Both are registered and Magic even has a National Top Ten title from her glory days. They are very friendly and patient and have impeccable manners. And their pictures will show you that they truly are "bff's".
Magic and CeeCee have the best of outcomes as they went to live with lifelong herd mate Lessie to assist in her duties as companions to Pippi at Evelyn and Michael's in MA. A happy extended family once again.
ECHO - 30" Mare, AGE 7
SASSY (Echo's daughter) - 25" Mare, Age 2
These two sweet girls are just begging to be cuddled by a little girl of their own! ...or.....a grown up girl, or family, or just about anyone in love with horses. Echo is a 31" cremello mare who has royal breeding and was intended to produce top notch show quality babies for her owner, but two years ago, she gave birth to palomino pinto Sassy, who is a dwarf mini. Sassy is only 25" and has reached her full growth. Since dwarfism is genetic, Echo's responsible owner decided not to chance another breeding and instead has offered this darling pair to us to re-home, provided that they can stay together forever. Sassy had surgery as a baby to correct her crooked legs. Although not perfect to look at, they work perfectly well, and Sassy can run and play with the herd. She has no other health problems that we are aware of, and has normal quality of life. She is very bonded to her mom, Echo, but both mares are super easy to handle and love attention. Echo and Sassy are located in Plymouth, MA.
These cuddle bunnies have found their forever family in MA, as evidenced by the new picture of Sassy with John! What more can we say.
HANK - 10 hand Shetland pony Gelding, age in early 20s
Silver bay Hank is another Cushings senior and needs daily meds and yearly blood tests. Hank also needs turnout that is grass/weed free, as he is also insulin resistant. Hank's 'kids' moved on, and he lived alone and lonely for many years. He's a fun boy to have around, and gets along well with any size or breed of horse or pony. Hank would be thrilled to give your small children pony rides!
We are happy to report that Hank has found a permanent foster home with Barbara and her senior ponies in NH!
Sadly, we lost Hank in January, 2016.
Hank touched a lot of hearts in the short time he was in our charge. He had paid so many dues in his 25 years of life – pony ride horse, to back yard family pony, to barely remembered critter that needed to be fed – and we were happy to be able to make him whole again, in body and spirit, even for all too short a time. We will miss him, and Barbara will miss him most of all.